As he waited in line at the bank, over 50 years ago, Wetzel imagined how automating teller services could cut time and improve people's lives. You guessed it: Don invented the A.T.M.!
One would think that being instrumental in transforming the banking experience would be the kicker to this story, right? Get this: to this day, Don's loving wife has consistently refused to use her husband's invention, feeling she'd be missing out on essential human interactions.
This great anecdote—part of the acclaimed podcast The Happiness Lab—epitomizes perhaps best what is arguably one of the most vital assets of brick-and-mortar stores in 2021: human interaction.
Customer service and quality staff are crucial to a retail store's added value compared to online shopping. As retailers are striving to climb out of the sinkhole that was 2020—and with so many people struggling with the lack of human contact—I reckon that staffing is more important than its ever been. In 2021, your staff will play a crucial role in winning back customers and repositioning your business as a must-stop retail destination.
Below: top-of-mind reminders of how staff can make a world of difference.
1. Sales associates can make customers feel great about purchases
Shopping online comes with great perks. It's convenient; there's this shop-at-your-own-pace kind of vibe, and, for the most part, it can be a hassle-free experience. Emotional triggers that were once exclusive to brick-and-mortar stores are now very much a part of the online shopping experience as well, be it promotions, new arrivals, limited quantities or others. Still, until online shopping comes with a 3D iteration of a delightful sales consultant—and even then—emotional aspects inherently tied to shopping and marketing strategies will be lacking in eCommerce.
One of the areas where in-person selling provides a unique added value is reassuring customers about their purchase. Marketing experts sometimes connect this to a phenomenon called cognitive dissonance. Think of it as that odd period following a purchase when you're feeling excited, yet you're simultaneously questioning if you made the right decision. Well-trained and product-savvy sales associates can quell doubts customers have during or following the purchase. What's more, they won't fuel uncertainties the way eCommerce ratings or reviews can.
We've all experienced it at one time or another, that moment when the salesperson tells you that other clients love the article you're considering, that they purchased the item themselves, etc. You end up stepping out of that store feeling like a superhero, better yet, like an ambassador for the brand.
Why would I visit a store when I can go online and get myself ready to write a thesis on winter boots?! 🤔⏳😳
2. Brick-and-mortar salespeople can help customers
come to a decision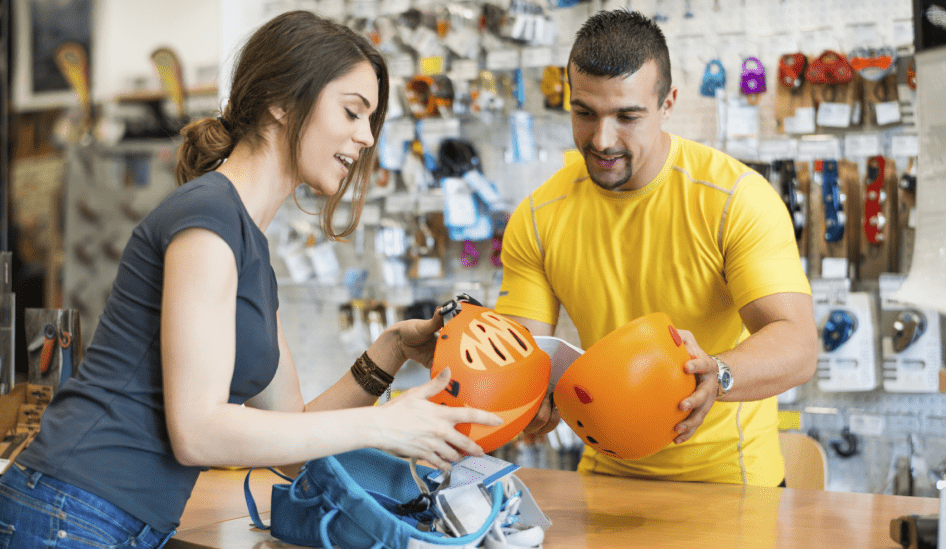 I most certainly fall under the analytical shopper category. When shopping online, I'm the guy that reads product reviews, looks for comparisons and dives way too deep into the discovery process.
I know I'm not alone—that's what the other members of my "way-too-analytical online support group" keep telling me (just kidding!). All jokes aside, several online shoppers get caught in the "more research is better" spiral.
Although I've fallen prey to the phenomenon several times, I'm convinced that, on several occasions, accruing all this information on products isn't the better option. Case in point, my last winter boot shopping journey (underline the word journey).
I was done being cold and knew I would treat myself to a quality pair of boots. I could have gone to nearby sports and outdoor gear stores and harness, in about half an hour, the expertise of their salespeople. Instead, I jumped online and got myself ready to write a thesis on winter boots!
I explored the different kinds of material, heat-retaining and water-repellent properties, etc. I read the consumer reviews too. Most were good, but then, even if they dated, the negative ones stuck. I basically wasted several hours becoming an expert on a subject I don't have any use for once the boots are on my feet. And it's not like I can leverage that time spent on another boot purchase. By the time I need a new pair, my knowledge will have been rendered useless.
Undoubtedly, visiting a store and putting the faith of my feet into the hands of a winter boot expert—figurately speaking of course—would have been a better use of my time. Plus, I wouldn't have struggled with those nagging post online purchase feelings: did I make the right choice, did I consider the correct elements, will they fit comfortably, what about…, etc.
3. Your retail staff keeps the experience fun and positive for the customer
With the COVID-19 pandemic, a good number of introverts discovered they had a little extrovert in them—imagine how extroverted people feel! We can't deny it: we are creatures of connection. A retail store's staff should be trained with that in mind and abide by the rule that a little extra goes a long way.
Shopping shouldn't be a chore. If consumers exit a store feeling no better than when they came in, that's a problem. From a warm smile to positive energy and helpful, even entertaining input, your staff's mission is to make a genuine difference; it's the essence of the job! And though recruiting people is a challenge, stressing this part of the job description can have a tangible impact on your business's bottom line, giving people a reason to purchase from your store, now and in the future.
4. How metrics and technology can help assess your staff's performance
In-store shopping experience is crucial, yet it's also somewhat elusive when it comes to metrics. Again, sales numbers can serve as an indicator, but they tell a minor part of your story.
There's another critical piece of data retailers need to be working with: foot traffic. Think of your footfall numbers as the missing link that enables you to assess experience and staff performance within your store. We said it before: if you can't measure experience directly, you can measure the components that depend on them, namely your conversion rate and staff performance.
Incorporated in our T.M.A.S. software and people counting technology is Storetraffic's exclusive focus on the Retail Equation. Using our exclusive Retail Equation simulator, you can understand the impact of your staff on your store's performance and experience, helping you to foster continuous improvement.
We're talking simple, actionable data here and proven technology at prices for any size retailer. If you'd like to learn more about the insights provided by foot traffic numbers and Storetraffic's right-sized people counting technology, you can easily book a demo with one of our experts by clicking on the button below. We promise to make it a pleasant experience!
Your store staff is a unique and core aspect of in-store shopping. The payoff of having a solid sales team is providing a great customer experience, differentiating your retail store vs eCommerce and winning back customers.