We are all looking for that silver bullet that would make our life easier.This is applicable even more so to the retail industry which has seen the industry evolve substantially over the last 10 years. E-Commerce revolutionized the way people buy. Today, a retail shop is just another way of buying, while not so long ago it was the ONLY way.
More than ever before, a brick-and-mortar retail store can benefit from providing a truly great shopping experience for its customers. Fundamentally, it must be fun and easy to shop at a store; of course, the general look of the store also plays a role, but stores that place focus and emphasis on the customer service provided by their staff can gain tremendously in the current era, simply by making sure the quality of the service experience is exceptional.
This is why analyzing your performance on traffic is more critical now than it has ever been because high level customer service is next to impossible if you don't know your traffic high points and low points.
Many brick-and-mortar stores are not measuring their incoming traffic, or simply not taking advantage of it in a manner to increase sales. In our business, we often meet retailers and unfortunately it becomes clear that store traffic numbers are often used just an indicator: Traffic is up, "awesome!" traffic is down, "oh no". It then becomes a blame game between weather, marketing, and the economy.
The fact is that this is a very limited way of looking at such important traffic data.
In this era of big data and hyper analysis, there is a simple formula that can be used to help you increase sales. It is not magic; it requires adjustment and hard work. Sorry if you were looking for something easier!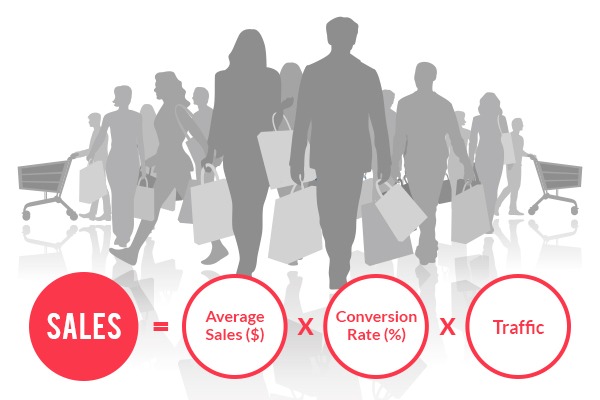 So if you are still with me, here it is:
Let's dig a little deeper:
Traffic = You can influence traffic with marketing. Flyers, coupons, digital, general branding. Note that it is usually difficult to significantly and continuously improve traffic and is often left to the head office or your marketing department. Note that, even though it is hard to influence traffic, traffic is extremely predictable and that once you start measuring it that it becomes a key metric to affect your sales through its predictability.
Average Sales = It includes two metrics:
Average Unit Price: Mostly influenced by your buyers and pricing strategy. It can be controlled in part through up-selling, but is also more challenging.
Units per Transaction: This can be influenced in your store through excellent quality customer service along with a good shopping experience. If your staff offers exceptional advice to a buyer, creates trust and your store, in general, provides a great experience, it will be easier to add items to their transaction.
Conversion Rate
The one constant over the years has been the significance of the conversion rate as a sales driver. Nothing comes close to being as easy and cost effective a sales driver as the conversion rate. And nothing improves conversion rate more quickly than the quantity and quality of customer service available on the selling floor, especially during key periods of the week.
Calculating the conversion rate requires simple division and is the number of transactions divided by the number of persons that entered your store (your traffic). Two elements will influence this metric:
The ability of your staff on the sales floor to close a sale with a customer, which can be evaluated using the Transaction per Staff hour metric (Tr/StH). It equates to how many transactions a staff member can close in a given hour.
The other, critical metric and the primary source of sales increase for sensitive service stores is Customer per Staff per Hour (Cu/StH). This is the "quantity" of service available in your store. If each of your employees has to serve about 30 customers per hour, then the service is almost non-existent, it means that each staff member has about two minutes to spend with each customer. This simply cannot be done effectively. Hence, you are most likely leaving money on the table.
Now to summarize, we have identified five different drivers. Think of them as levers you can lift, one at the time, to increase your sales.
They are listed below along with what they require and the level of difficulty to influence them in store
Looking at the table, you can understand why we recommend that our customers start by focusing on Cu/StH first.
Last but not least, you need to focus on periods where influencing one of these numbers will yield the best results. It is incredibly complicated to ask for improvement during all opening hours of the stores. The best time is during the 16-20 hours of weeks that represents your Key Periods. Typically Saturday afternoon is one of those periods, but exceptions can apply.
So if we make a complete strategy statement out of all these notions, it would look like this:
"For the next four weeks (remember it takes time), we will optimize scheduling by adding one employee on the floor during our Key Periods, hence increasing our traffic. Our Customer per Staff ratio will go down. We will then ask this person, to go and close the number of Transaction per Staff per hour that we were usually doing. The rest of the team will need to maintain that number also. "
If you do not believe that adding one staff member and asking him to fetch the same number of transactions that his co-workers get during that particular period, then go and look at your conversion rate. If it hovers around 20%, then it means there is still 80% of opportunity in your store. Even if you believe that 50% will never buy, that means you still have vast improvement potential.
Also, if it does not work the first or second week, do not despair; focus instead on further training of staff and isolate areas that they might need extra focus on. When you begin to see results whereby your conversion rate increases and you managed to maintain your Transaction per Staff per Hour, then set another goal. Slowly but surely you will be able to increase your sales, and your customers will most likely find the store experience better than it was before.
Now, on to the commercial note: here at SMS Storetraffic we provide the retail traffic counting solutions and the related software that you need to allow you to identify your critical periods and measure all the required drivers. Should you want to learn more, feel free to contact us!